Creators Competition Season One Student STEAM Project Inspiration: D.Va Highlight
With SAM Labs' recent launch of the Season One Global Creators Competition, students from all over the world have the opportunity to dream big and put their design skills to work. With dozens of awards to win and a chance for their work to be showcased on an international stage, there's no shortage of excitement this season.
The competition itself is open to students aged 6-16 and allows children to compete in two formats: one that requires the use of a SAM Labs kit, called the STEAM and Coding Challenge, and one that only requires the use of common household materials or classroom materials, called the Prototype Challenge.
The STEAM and Coding Challenge theme for season one is what can you create with SAM Labs during COVID-19?
One of the best ways to compete in the STEAM and Coding challenge is with the use of the SAM Labs Alpha Kit, an individually-sized STEAM kit that contains just the essentials to kickstart a project and get it off the ground. SAM Labs STEAM kits utilize Bluetooth-enabled blocks that are capable of doing a host of things, from sensing lights to moving motors to lighting up an LED. The blocks connect to a free app called SAM Space, where students can visually drag-and-drop virtual blocks on their screen to make connections, and the physical blocks mimic the connections in real time.
One Alpha Kit includes:
2 x DC motor
1 x Light sensor
1 x RGB Light
2 x Wheel
1 x SAM Controller
1 x SAM Car Chassis
1 x Roller Ball
2 x LEGO Gear Attachment
2 x Small LEGO™ Holder
2 x Large LEGO™ Holder
1 x Multi Micro USB Charging Cable
See the full Alpha Kit specs here.
While students can create all sorts of different projects with common items found at home or in the classroom (or even just within the Alpha Kit itself), the Alpha Kit also integrates with a number of other common edtech products, such as LEGO™ and Sphero™. This gives students a creative advantage for coming up with even more ideas for their projects. So, what exactly could students create with these tools? See the incredible example below!
Real-World Inspiration from a SAM Labs Alpha Kit
We asked the staff at SAM Labs to come with sample projects to help students come up with inventive ways to utilize Alpha Kits in the competition. Eleanor Jacobson, Marketing Manager, US for SAM Labs decided to combine her passion for education technology with her love for video games and create a STEAM-powered invention to inspire student participants.
Step 1: Creating a Design
"In the video game Overwatch by Blizzard Entertainment, there's an animated highlight intro of one of my favorite heroes, D.Va. She's a Korean video game champion and also defends her country as a pilot against omnics using her mech," said Jacobson.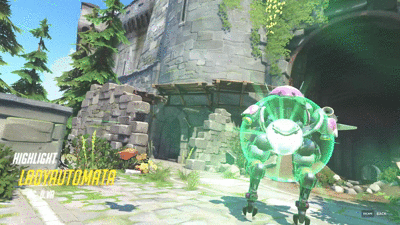 "She's a playful character, and in the highlight intro, she hops out of her mech as it's exploding and takes a selfie with a cell phone. This highlight intro plays when a player gets a play of the game. I knew I wanted to take that animated highlight and bring it to life as much as I could through SAM Labs. STEAM can bring together the Arts and engineering, so I knew this would be an excellent project combining the two."
Step 2: Assembling the Parts
Jacobson started off by compiling exactly what she would need for her project.
This included:
Next, she focused on building the D.Va mech, customizing D.Va with the phone (she used nail glue) and finding a stable base for the figurine from the classic LEGO™ kit. After the mech was put together, she started fitting together the SAM blocks to the mech. The LED lights fit well under the wings of the mech, but in the highlight intro, D.Va's mech shakes back and forth, so she knew the DC motor would need to somehow be connected in a way that allowed for this motion.
At first I thought that I could utilize two DC motors, one on each leg of the mech, to equally distribute the motion. I quickly learned that the SAM blocks were of unequal height to the mech and that the gears would turn too quickly for the mech to handle the motion, even before I programmed them to rock back and forth. It was just going to tip over."
Jacobson then decided to remove parts of the mech and trim LEGO™ rods that came in the classic kit to align everything together. She also removed one of the DC motors so that the mech could withstand the motion. But by default, the DC motors only turn one way, so this was causing the mech to spin slowly around in place. She needed to find a way to program the block to rotate quickly back and forth and the lights to flash repeatedly.
"The DC motor was the most complicated part of the project to complete, because not only did it require intricate jury rigging of LEGO™ components, glue and the SAM blocks to make everything fit and stabilize, but to figure out how to make the blocks do what I wanted them to."
Step 3: Programming the Functions
First, she created a Delay. Next, she connected that to a Counter which was only able to count to between 0-1. Next, she used the Numerical Compare feature and split this from the Counter. When the Counter equaled 0, the motor spun counterclockwise. When the Counter equaled 1, the motor spun clockwise. Jacobson had to adjust the speed of the motor and the Delay to make sure that the movements and loop was created extremely quickly to give that fast back-and-forth motion the mech needed. The LED lights were also put on a timed Delay which also gave the strobing effect she needed.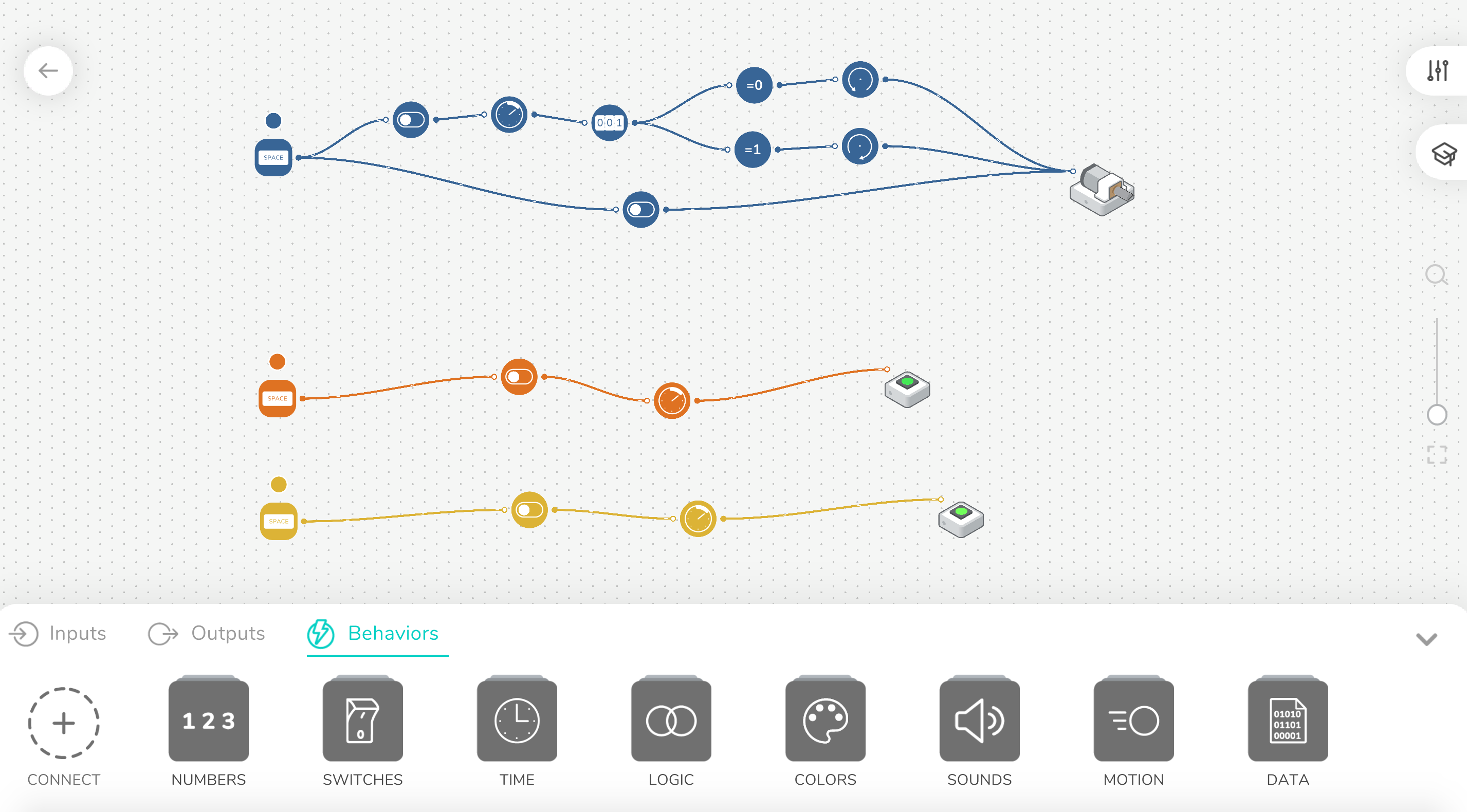 "I actually struggled perfecting the part with the DC motor, and after a few failed attempts, reached out to our Customer Success Manager, Sophie Goodstein. She's a magician with SAM Labs and after two more ideas on how to get this working she helped me figure out this solution using a Counter. I think this just proves that STEAM is better with collaboration and it's okay to communicate and ask for help!"
Ultimately, Jacobson tied the project together by screen recording D.Va's highlight intro from Overwatch, recording her project using an iPhone7 Plus and putting the final submission together using iMovie.
Sign Up for the Creators Competition Season One and Get Real-time Coaching and Support
Your students can create projects just like Jacobson's or come up with their own unique ideas by signing up for SAM Labs' Creators Competition.
SAM Labs also is offering student webinars to assist students with idea generation and problem solving during the competition, regardless of whether they are using SAM Labs kits and competing in the STEAM and Coding challenge or using at-home materials and competing in the Prototype Challenge.
Ready to get started? Check out:
Eleanor is an EdTech writer who's passionate about changing the world one classroom at a time. When not spreading the news about the latest in K-12 technology, you'll find her geeking out about the latest startups or video games and adding to her '80s toy collection.