4 SAM Studio Features To Get Excited About
Plans for building SAM Studio began when we heard that Google Workbench would be depreciated in December 2020 – it really has been a crazy year!
Up until this moment, our SAM Labs educators had been cruising while teaching computational thinking and using our SAM Space app and Google Workbench to do so. SAM Space and Google Workbench are the software platforms that students use when creating their code. After creating their code on the platform students can then test their code and watch their code come to life both on screen and in their hands with our Bluetooth physical blocks. Google Workbench will now be replaced by SAM Blockly within our web-based platform SAM Studio.
Introducing SAM Studio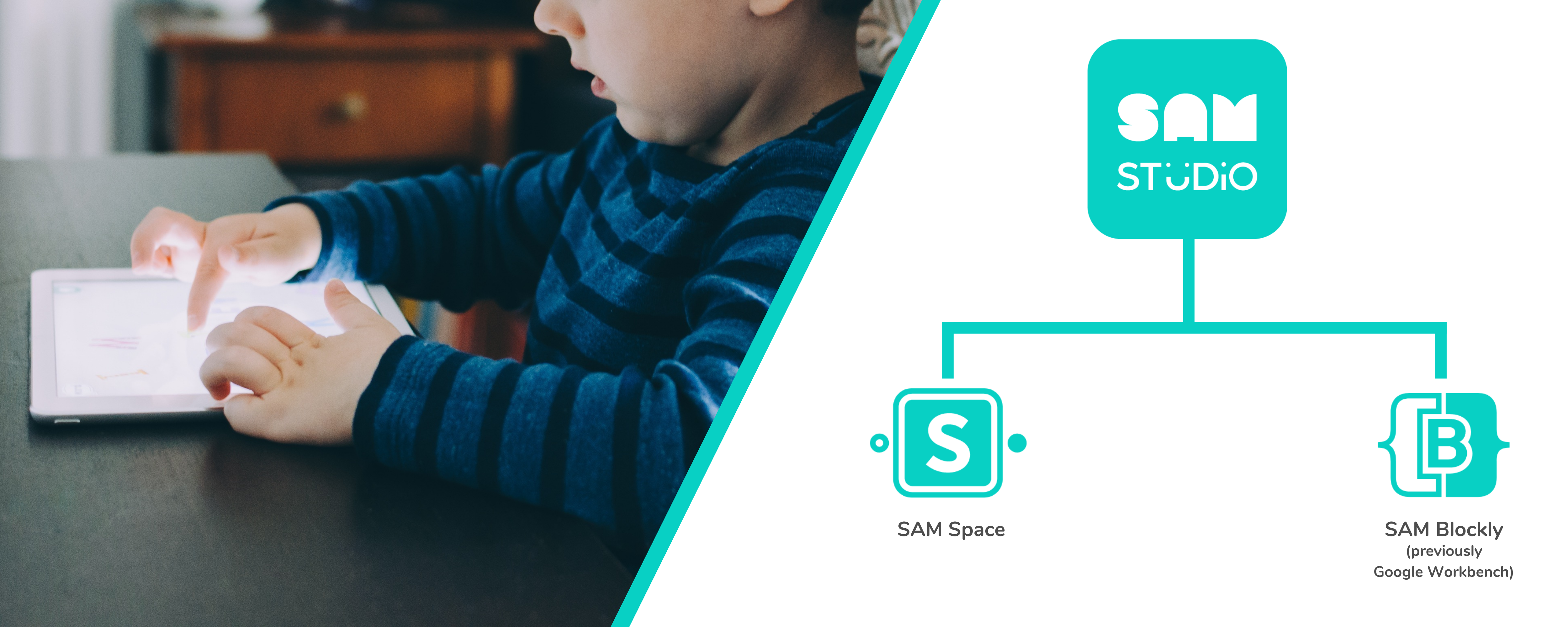 SAM Studio will now house both SAM Space and SAM Blockly. SAM Space has traditionally been used for our K-5 STEAM education curriculum and SAM Blockly, previously Google Workbench, has been used for our 4-8 Learn to Code curriculum. The two platforms have been complementary to each other allowing a natural coding progression for students in Kindergarten through Eighth grade.
SAM Space boasts flow-based intuitive coding that is highly visual. Students build their code in the app using our SAM blocks and behaviors. They simply drag and drop the blocks that they would like to use to create their code on the workspace in the app.
SAM Space has limited text, allowing all students, regardless of age, language spoken, reading level, or learning needs, to create and test a code when in the SAM Space app. The visual nature of the app is a huge advantage for students learning to code with our SAM Labs STEAM activities.
SAM Blockly takes coding to the next level with blockly and introduces students to block-based coding. Our SAM Labs STEAM education curriculum and Learn to Code curriculum provide a seamless progression from SAM Space's visually intuitive coding platform to block-based coding within Workbench.
In SAM Blockly students continue to drag and drop the blocks to create their block-based code. A major difference between SAM Space and SAM Blockly is that the blocks used to create code have text on them unlike in SAM Space which has primarily images only.
Both SAM Space and SAM Blockly offer a plan for teaching students how to code by meeting them at their appropriate level. For example, with our standards-aligned STEAM activities Kindergarten students are learning how to code within the visual focused app. Once students get to fourth grade they start to dig into computer science standards-aligned coding activities that increase in level of difficulty as they.
Introducing SAM Studio's Top Features
SAM Studio changes the game for SAM Labs educators as we now offer an all-in-one platform for STEAM and Coding. SAM Studio is a web-based platform that teachers can choose to install on computers for offline use. SAM Studio will enhance and replace both SAM Space and Google Workbench for SAM Labs' educators and students. From within SAM Studio, teachers can choose to access SAM Space or to access SAM Blockly. SAM Blockly is replacing Google Workbench.
We can't wait for you to experience both the ease of use and the complexity of code possible in SAM Studio with your students!
Here are 4 Features we are excited to bring to your classroom with the release of SAM Studio!
Virtual Blocks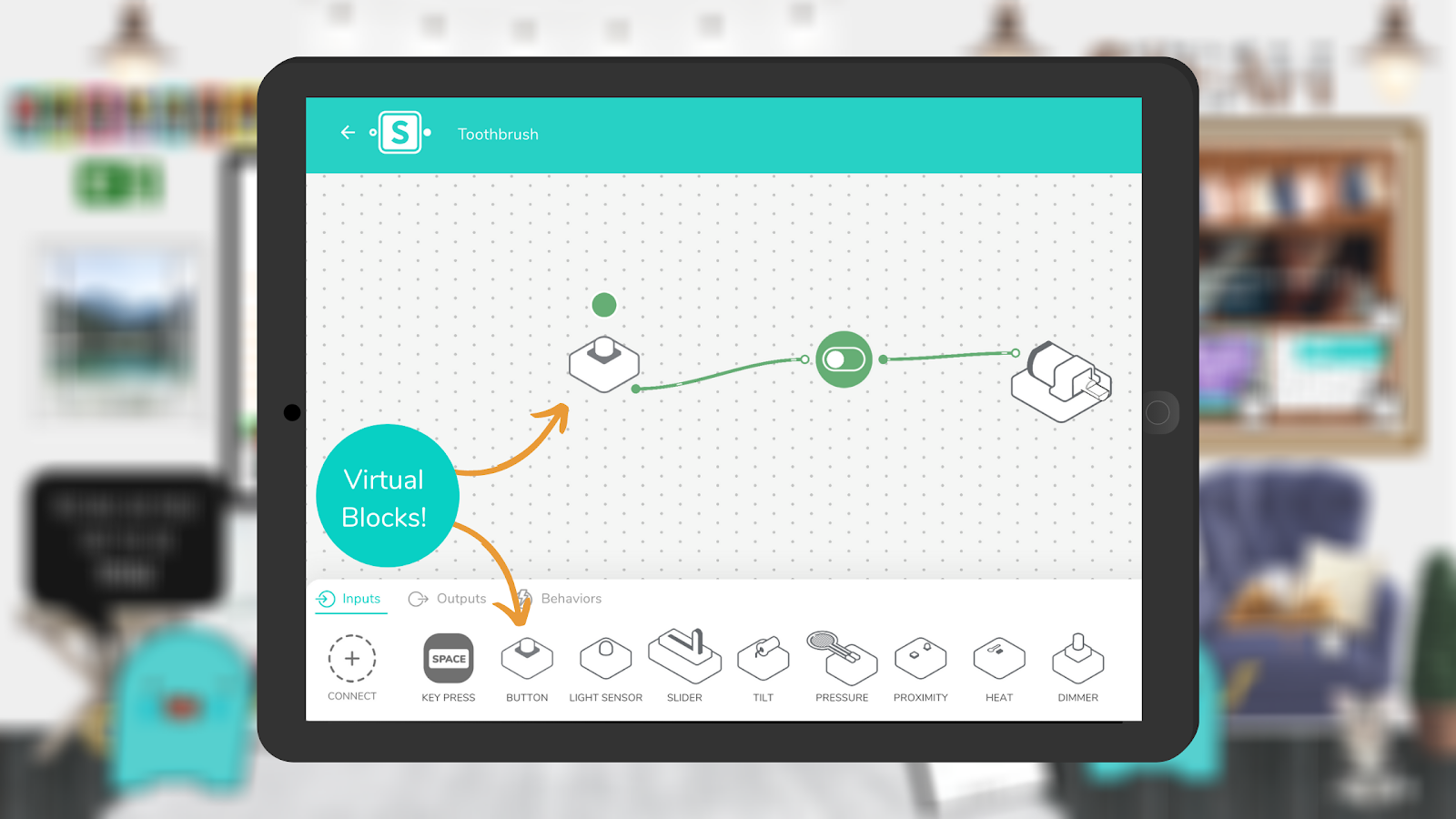 If you've had experience using SAM Space you may have noticed and have interacted with our virtual blocks within the app. Virtual blocks are an amazing tool for teachers that haven't received their blocks yet or are waiting for funding and still want their students to get a chance to dive into the coding challenges that accompany our STEAM activities and coding lessons. They are a perfect distance learning solution for students.
Virtual blocks allow students to create their code and to watch it come to life on screen. The virtual blocks are also really helpful when you want to assign students an open ended challenge that allows them to create a code using whatever blocks they would like that you might not physically have.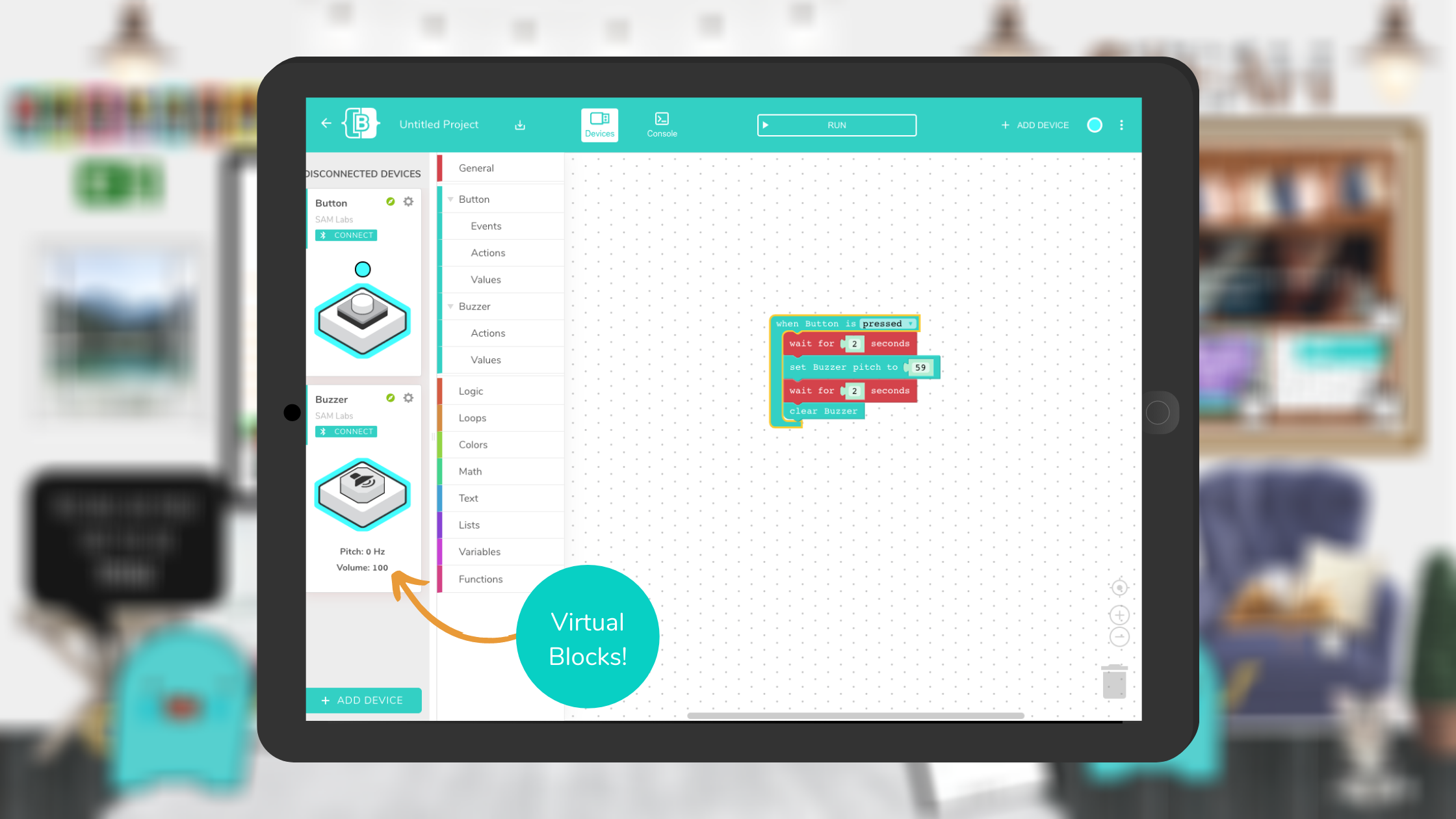 While SAM Space has had virtual blocks, Google Workbench did not. Previously in Google Workbench students could create their block-based code but they could not test their code unless they had physical blocks with them.
SAM Studio will now feature virtual blocks for block-based coding within SAM Blockly! Students will now be able to test their code within SAM Blockly very similar to how they can test their code in SAM Space thanks to this new feature addition!
Differentiation
When you open SAM Studio and are ready to create a new project you will be asked if you want to create a project in SAM Space or in SAM Blockly. Previously, you would have to access these two platforms separately – SAM Space would be downloaded on the computer as an app and Google Workbench would need to be reached by going online. Now you and your students have the option right at your fingertips in the app.
Having access to both SAM Space and SAM Blockly provides another avenue for differentiation amongst students. Now your students can choose which platform they would like to use to create their code. As mentioned earlier, SAM Blockly (formerly Google Workbench) is meant to be more advanced than SAM Space and offers block-based coding only.
For your high flyers that might be ready for block-based coding this is a great chance for them to be challenged and given an extension activity. Ask them how they would create the same code in SAM Blockly and then have them explain the differences. The possibilities are truly endless now that both SAM Space and SAM Blockly are available within the app.
Google Drive & Google Classroom
SAM Studio can be connected to Google Drive! Once you connect to Google Drive all of your work, each project you create, will be saved and stored within your Google Drive. When you open SAM Studio you'll be given the option to connect to Google Drive. Student work will always be saved thanks to this new feature addition!
Now that we are able to connect SAM Studio to Google Drive, this also makes connecting to Google Classroom a reality! Teachers can now assign work within Google Classroom. If you've been using SAM Labs for a while now you may be asking yourself how this is different from what you might have been doing previously.
Maybe in the past you have assigned students our Google Slides presentations or our student handouts that accompany each lesson to students within Google Classroom. This is still possible, but with SAM Studio you have yet another amazing Google Classroom integration! There are two major differences available now within SAM Studio.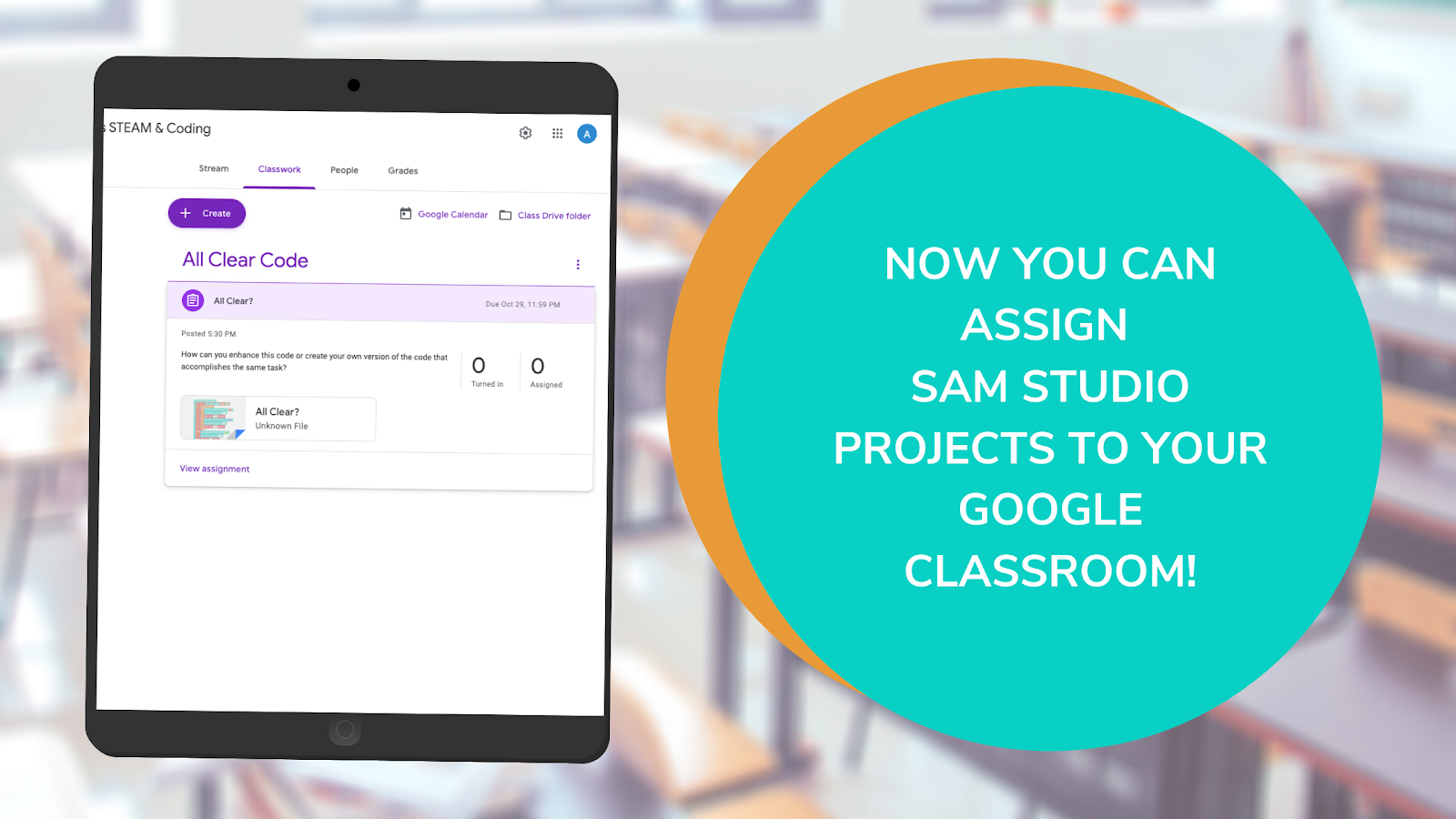 The first difference is that you can now create a project from within SAM Studio and then head to Google Classroom to assign that actual assignment to students from within Google Classroom – thanks to the Google Drive integration!
When you assign this project to students from within Google Classroom it will allow your students to actually open up their own SAM Studio copy of what you assigned them. This will be similar to what happens for your students when you assign them their own copy of a Slides presentation.
The second difference is that now students can actually submit their code straight to you! Students don't have to take a screenshot for you to review, but instead, you now get access to the actual code they created within SAM Studio. With this feature you can now edit their code if you'd like, provide feedback and suggestions so they can improve their code, and also assign a grade within Google Classroom!
Integrations
Do you have Vernier? Do you have Sphero Spark Plus? Do you have Parrot Drones?
If you answered yes to having any of the above products, you can now use these products within our SAM Studio app! With this feature in SAM Blockly you can assign students an open ended challenge that allows them to use SAM Labs blocks alongside any of the above products you already have! Now students can get the most out of computational thinking and learning to code by integrating multiple products.
In addition to integrating with Vernier, Sphero Spark Plus, and Parrot Drones SAM Studio also supports Google Sheets and Micro:bit. The Micro:bit is used throughout our Learn to Code activities and curriculum – check them out here.
Conclusion
We hope that you are as excited as we are for the SAM Studio release!
These new features available within SAM Studio will allow you to efficiently work with students while engaging them in STEAM activities during distance learning as well as when in the classroom.
SAM Studio's virtual block capabilities for both the STEAM education curriculum and the Learn to Code curriculum add another piece towards SAM Labs educational equity. Computational thinking skills will continue to be at the forefront thanks to the new SAM Studio platform.
Which SAM Studio feature are you most looking forward to?
Loved this post? We think you'll enjoy these posts as well, check them out!
Traditional Teaching vs Learning Through Failure: Which Works Best?
Coding Games vs Learn to Code Kits: Why Physical Kits Are The Tools to Level Up Learning
Teaching STEAM in the Classroom: 5 Ways to Create Authentic Learning Experiences
Ashli is a science educator who has a passion for using EdTech tools in the classroom and for creating interactive learning experiences that allow all students to engage in higher level learning.