ESSER III – How can I ensure it's spent effectively at my school?
This article originally appeared on Medium.
Joe Biden signed the American Rescue Plan Act of 2021(ARPA) on March 11, broadly one year after the Coronavirus Pandemic was declared in the USA.
ARPA includes $122.8B of new funding that is called the Elementary and Secondary School Emergency Relief Fund (ESSER III).
So here I'll be telling you about ARP ESSER III and the difference between the STATES requirements and the DISTRICT requirements.
Why does that matter to me (as an educator) now?
ESSER III is being allocated by district administrators now.
Now is the time for educators to make their voices heard, leverage their knowledge, and ensure that the spending is allocated appropriately.
The information out there can be a bit blurry, so I've done my best to summarise it for you from this video, this article, and other sources linked below.
What is the purpose of this funding?
The previous 2 plans (ESSER I-2020, ESSER II-2021) addressed budget shortfalls and critical infrastructure. This one seems to be A LOT of extra funding above and beyond what district budgets call for.
This plan is designed to ensure that schools:
Reopen fully for the 2021–2022 academic year, and to encourage schools to reopen for the remaining of this academic year.
Provide Summer and Enrichment opportunities to help them in those learning recovery efforts.
Address the inequities in education that the pandemic has exacerbated.
How much money has my STATE been allocated?
A LOT.
Check out how each state has received money here.
For example, California is receiving $15B.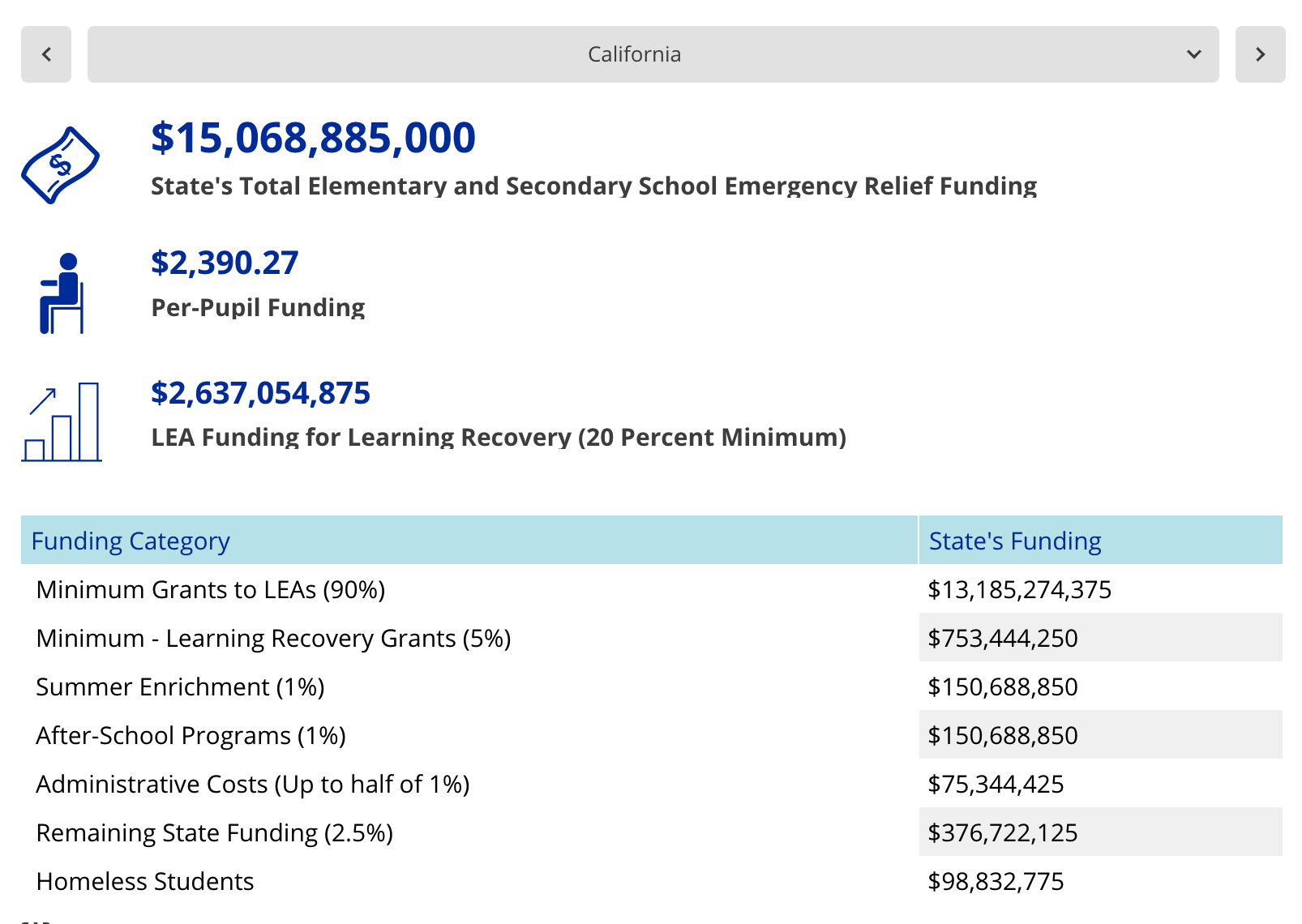 California ESSER Funding (Source)
How is my STATE expected to spend the large amount of money they're receiving?
~90% is pretty much going straight to DISTRICTS (LEAs) to improve school access, enrichment, and address inequities, SEE BELOW FOR MORE INFO ON THIS.
~5% towards Lost Learning Time – Spent by the STATE
~1% towards After School Programs that address students' Academic, Social, and Emotional Needs – Spent by the STATE
~0.5% towards Administration Costs – Spent by the STATE
~1% towards students experiencing homelessness – Spent by the STATE
~2.5% towards – Spent by the STATE
How much money has my district been allocated?
Given the info above, it's the largest influx of funding in recent memory.
It's 90% of $122.8B for the whole of the districts in the US, so $110.5B!
It should be enough for schools to shore up gaps and make additional investments in staff and students.
What will my district be REQUIRED to spend this money on?
LEAs will be required to use at least 20% of the funds they receive ($22 billion) to address lost learning time for students.
They will have the freedom to spend the remaining 80% ($87.8 billion) of funding based on local needs and priorities.
In short, the spending will be mostly discretionary, which is very different from typical federal funding, as federal funding usually comes with strings attached and agendas.
That's a lot of freedom!
How much money has my school been allocated?
As above: A LOT.
There's not a whole lot of public information about this, because it's still being distribute by your STATE to your DISTRICT, and by your DISTRICT to your SCHOOL.
You can try to find out by emailing your principal or district administrator, and remember you can influence these decisions, especially the 80% that your district spends on local needs and priorities.
What types of spending is eligible for my school?
Quite a wide range:
Education Technology
Special Education Services
Providing services to English Language Learners
Cleaning Schools
Improving Air Quality
Feeding meals to students
Planning for future long term school closures
Mental Health Support
Are there any specific criteria?
Yes! ALL the spending needs to help LEARNING RECOVERY.
Can that be more specific?
The most specific statement I found was: "Schools have to use the money to address the academic needs of students caused by the pandemic."
Does the law impose what approach schools, districts, and states have to use to improve learning recovery?
NO! That's where things get a bit blurry. Schools can spend it in a wide variety of ways like:
Intensive tutoring
Summer school
Extended learning programmes
So, the answers for how the money will be spent for learning recovery from state to state and even from district to district.
Is my STATE spending time-bound?
Yes, they have 60 days to give the amount that is due to the districts in their state.
Is my DISTRICT spending time-bound?
YES! [1] Fund grants can be used to reimburse eligible expenses incurred between March 13, 2020 and September 30, 2024.
What can I do to make sure that it gets spent in a way that I believe is useful?
Write to your administrator to ask about the budget, with a few suggestions of how the money can get spent.
You the right to know where the money will get spent. And, as an educator, you probably have a great vantage point on how that can be done.
Anything more?
From what I could collect that's pretty much it. Please let me know if you find out anything more by emailing me at info [at] samlabs [dot] com.
Additional Resources:
Joachim is the Founder and CEO of SAM Labs. He's passionate about connecting with educators the world over to provide the most engaging methods to empower teachers and bring STEAM and Coding to life in every learning space.